Life here has been varied: many projects, cleaning, reading, puzzling, etc. have taken over most of my days.
We bought, decoupaged, and polyurethane-d a porch-table. I finished a 1000 piece puzzle of 3 colors. I finished
Middlemarch
. I thoroughly cleaned my room. I've begun my summer school assignment. I puttered around a lot. A few activities (that's what I like to call them) have been of more significant note:
A short bike trip from home was the city cemetery where a few notable people are buried, including Margaret Mitchell.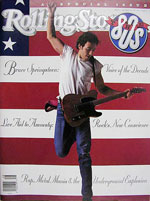 We went to the art museum last week, and saw the photographs of Annie Leibovitz, which I really enjoyed. It was all good to look at, and I especially found fascinating the famous people she photographed. Perhaps because famous people you've seen in movies many times you feel like you know their personality a bit: and she captured them strikingly well. I couldn't say what it was, but it was wonderful.
I didn't see a large print of this, but turns out she photographed the Bruce Springsteen postcard I have with the flag in the background.
I bought one of Johnnie Cash and Rosanne and June Carter.
(this isn't actually the right one, but it's similar, but with June Carter)
The next day we went to a Western Art museum about an hour outside of town. It was much larger than I expected, and also had an exhibit of presidents' faces accompanied with interesting facts about them, and a Civil War room. I'll plan a field trip there for next year.
I really do like cowboys...
so, while all this has been very fun & quite productive, I really am looking forward to change and movement: a trip to
Florida
in a few days will drive off any ennui coming on.
hurray! Amy and Brian are getting married.